Want to learn how you can install google chrome extensions on your Android device and use them without a computer or laptop in simple way? Are you tired of using chrome browsers on computers and laptops just because it has on little feature that Android mobile don't? Oh Yeah, I am talking about chrome extensions which you can't use on Android phones, or maybe that is what you have been thinking! although in the past this might have been true, but since then Android phones really have gone a whole another level.
Play store has introduced a hell of a lot more applications than we could imagine! And to your surprise Well… there are some couple of Android browsers that does support chrome extension on Android mobile. ergo that is what we will be learning today and how to use them to install almost all chrome extensions on Android device. Shall we?
How to download Chrome Extensions On Android
First of all, you need to get this. You can't exactly install chrome extensions on Chrome browser, but rather you got to download some other browser that supports chrome extensions now I get you have been using chrome for a long time that you don't easily think of using other browsers still trust me, it will be worth it. because the browsers that I'm going to recommend to you are based on the same technology that chrome is. which is of course the open-source chromium-based Android browsers that support extensions.
Kiwi browser is a free android application of small size, you won't have to worry about this browser taking up much of your space, it has all the similar functions of your chrome browser, or any other browser for that matter plus you get the extensions which you've been looking for. So what's the process, how to do it.
how to download these chrome extensions on android mobile simply step by step.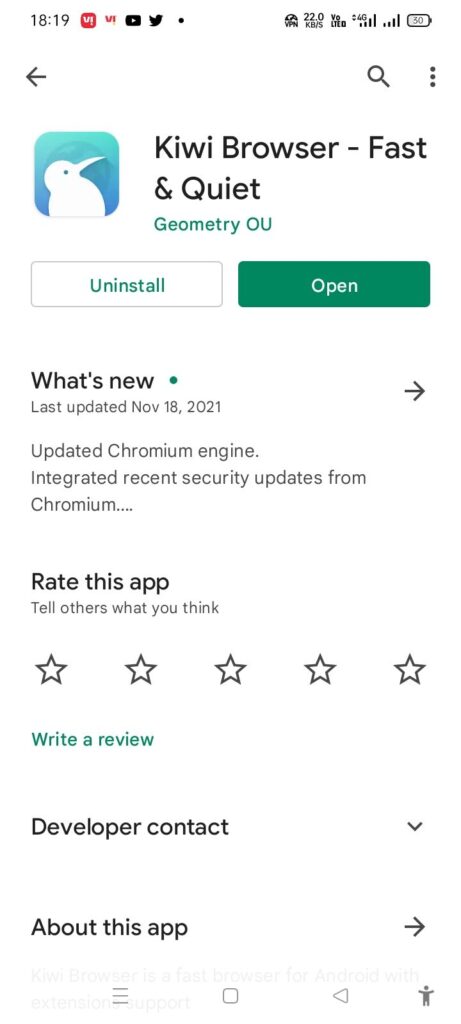 Open the app. click on the 3 dots up on the right corner then select extensions
Switch on the Developer Mode, which you will see about your right
Select the address bar and put this link: https://chrome.google.com/webstore/category/extensions
Chrome Web Store will open, from there you can find whatever extensions you want for your android device
After finding the extension that you want, click on "Add to Chrome, a pop-up might appear to confirm your extension strike Ok
Well done! You did a good job following the instructions, now you have got yourself a chrome extension feature in your smartphone if you want to download or remove or update some extensions you do that by going into the setting section and clicking on Extensions

what bank is cash app on plaid | list of over 10,000 banks and credit unions that work with Plaid
How To Create Lightning Power Effect In Photoshop
Download 350+ Instagram Viral Photo Editing Background HD 2022
Is the Asus 2-in-1 Q535 is Perfect Device for Students and Professionals
2 Second way to download chrome extensions on android mobile
Should you find Kiwi browser maybe not so compatible with your Android version, although it works for pretty much all the Android versions, if this does not turn out to be the case, well, I still got you man! You can always download this other browser I'm saving up for the last
It is called YANDEX BROWSER. and this is too based on the chromium platform so you don't have to worry about the experience, cause it will be the same, It is pretty basic, you've got all simple functions, like streaming, reading, ad-block, movie download so on & so forth it does support google chrome extensions which is our main objective here.
just follow these simple steps to use chrome extensions on android mobile
Put this address given below in your URL BOX
https://chrome.google.com/webstore/category/extensions
Find out the chrome extension which you want and click on "ADD TO CHROME"
Voila! Now whatever extension you wanted to download will be download & added into your Android browser.
Best chrome extensions for Android
Extensions are like mini-applications that you download in your smartphone, to do a number of things, like scanning your spelling, making a list of your to-do list remembering passwords & so on.
LastPass
LastPass is an extension that helps with your password management, many people have different accounts so to speak, and quite often they forget what their password was for that particular account or get lazy cause they have to put in passwords many times a day, it's time-consuming they say, well that's where LastPass comes in. It auto-fills all passwords by itself so you don't have to, you just need to remember 1 password and that is of LastPass.
Click&Clean
If you're too like me nonstop surfing all the day on the internet doing your important work and at the last of it, you got to delete your browsing history and make it clear but you hate doing it manually or one by one cause it's a drag, and you would like to do it by just 1 click, Well then Click&Clean is most definitely for you, this extension can clear all your browser history in one single little click. so click away.
Ghostery
Ghostery is a really advanced extension that is supposed to block all the ads while you are viewing some content so that you won't get distracted by it, God knows it happens with everybody! it also hides your personal data from tracking sites and keeps all your personal information private, you'd ask me, I'd say that is one damn fine tool.
Grammarly
A lot of people whose job is to write content or maybe just somebody who likes to text to others or anybody who's want to improve their English on paper, they can this use this ever the smarter extension Grammarly it will point out and correct all your mistakes which then will help you learn loads of new things and they will stay on your mind.
Evernote Web Clipper
Do you also get called away whilst reading some important stuff on the internet and end up saving it on the bookmark for the later view? but then you have trouble finding where you were last at. Download Evernote Web Clipper this will help you save only the parts that you want to, or you can also save the whole article highlighting the texts, or PDFs parts without any ads.
Chrome Extensions on Android smartphone
It has become the new norm to use android mobile browsers for almost everything, but most of all for content writing, it's not really that easy to carry a laptop with you everywhere & you can't exactly predict when you'll get a new idea! what else can one do? but to pull out the smartphone from the pocket and use it to write down all news ideas and posts.
one thing everybody goes through is they don't have enough functions on chrome browser alone and they might not be able to afford a laptop or PC, that's where we come in. Our one little simple goal is to make technology reach out to even the rural of places, something we Covered today, as to what we learned today is " How to download & install chrome extensions on Android device without having to root android device in a simple way" Gracious amigos.