Sometimes, your customization of Photoshop can go haywire and you may want to restore the application back to its original settings. Photoshop has made this process easier than ever before with the Reset Dialogs button in the Preferences window, but if you've never used it before, you might have no idea where to look or how to use it properly. This quick guide will teach you how to restore Photoshop back to default settings quickly, easily, and safely. There are two methods, and we'll show you both.
Why Reset Photoshop Preferences?

I use Photoshop often for my graphic work. When experimenting with Photoshop, when adjusting the default settings during the trial, people experience a particular problem, and then forget what the baseline setting is. Forget about what the reference condition is during the trial and then. Therefore you have to switch back to the default settings Because sometimes preferences get changed that you didn't mean to change.
This can cause problems with just about any Adobe application and there's no easy way to fix it, aside from resetting your preferences. This isn't usually a big deal for most people, but if you run into an issue where you want to start fresh with a clean slate, then resetting is what you need to do. You might also consider resetting preferences if you're trying to troubleshoot something in Photoshop. If one of your settings is causing problems, then resetting should resolve them by defaulting all of your settings back to their original values.
How to Reset Photoshop Preferences (in Windows):
If Photoshop opens properly, click the Preferences menu to clear the programme settings. (If it does not open properly, see the section below.)
methods – 1
Open Photoshop on your computer. Then, if you're using a Windows Computer
Go to the menu bar and select Preferences > General.
Or you can go with the shortcut. Ctrl + plus + k.
At the bottom of the Preferences window that displays, select "Reset Preferences On Quit."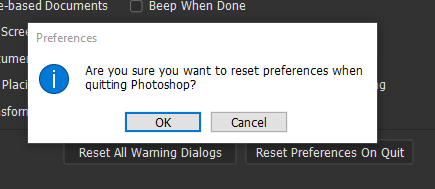 Next, click "OK" to close the Preferences window.
To finish resetting Preferences, you'll have to exit Photoshop. To do so, choose File > Exit from the menu bar.
methods – 2
Hold The Photoshop And Drag Into The Home Screen
NOW LETS RESTART THE PHOTOSHOP
Double Click Into The Photoshop Icon
Press And Hold, Ctrl, Shift, Alt
Hold These Three Button, Until This Dialog Box Appears.
Click Yes
NOW PHOTOSHOP CC, WILL LAUNCH WITH RESTORED PREFERENCES TO THEIR DEFAULTS settings.