In this article you'll get to learn everything about best Android & Iphone apps to help you convert Speech-to-Text with their information along with download link! You ready!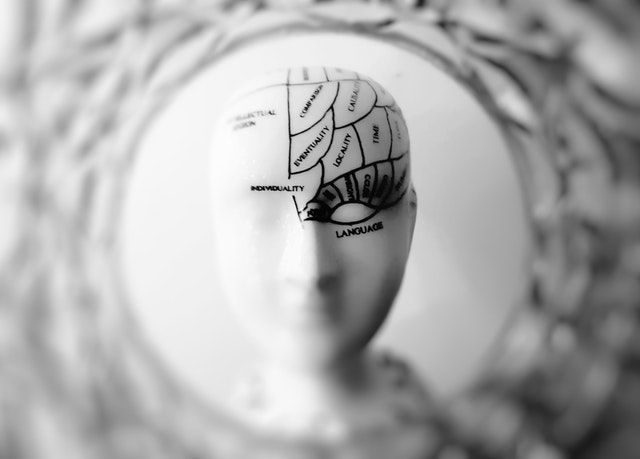 No matter what your profession is, whether your a student or an employee
taking notes and making dictations on them is something we're all bound to do at some point in our life, and we can't exactly run away from all that and it's really a lot of work, takes much of our time and the energy too.
And to make all of that easy, many technological advancements has been made in the past, so that we don't have to write everything down on our mobile phones, on our computer's, or simply on a piece of paper, to counter this particular issue we are going to talk about many different Android's & Iphone apps that can transcribe voices or speeches into texts.
Best Free Speech to text apps for Android & IPhone
The information provided into this section is exclusively for Android & iPhone user's Please be sure to read if the app that you liked is available for the platform your looking for.
1. SpeechNotes : Voice to text app
Speech notes is an online Android app that lets you make voice notes easily and effectively. It uses a complex voice recognition system that allows it to transcribe your speeches into texts accurately, it also backs up your transcripted files to your Google Drive.
Download Now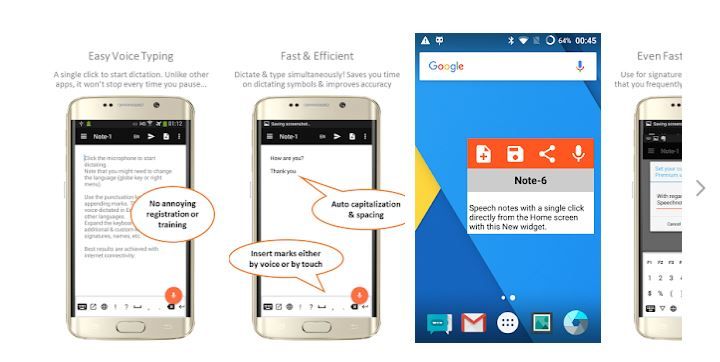 SpeechNotes: speech into texts converter app features
2. Live Transcribe & Notification
Live Transcribe is an online application for Androids smartphones & Iphones, especially made available for deaf or hard-on-hearing folks.
Although it is for everybody use & easier to work with just your Android/iPhone device. Developed by Google research team it's a powerful tool with many features.
Download Now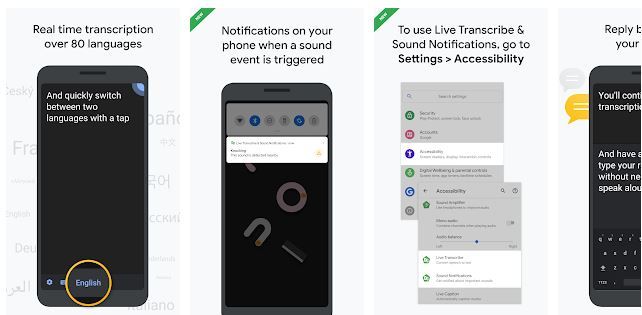 3. Speech Texter
Speech Texter is a free text-to-speech android app that works both online and offline plus it's very simple to use. There's nothing to sign up or login Just tap on the microphone button and start dictating, Speech Texter is being used by many students, teachers, writers, around the world. it also helps you make your pronunciation better of any foreign language.
Download Now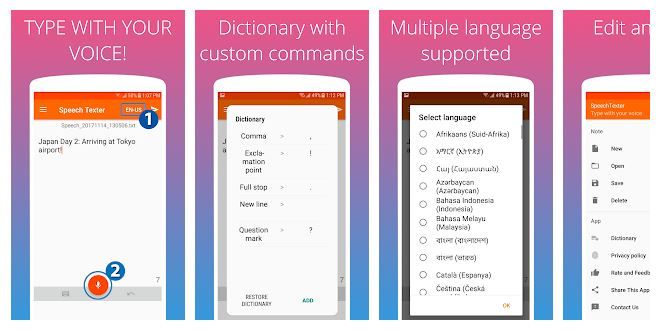 Speech Texter speech-to-text Android/Iphone app features
4. Voice Notebook: Voice to text Android/Iphone app
Voice Notebook is a voice identification Android/Apple free application for converting speeches into texts as well as converting audio to texts app it also supports Windows, Mac, Linux Os on updated chrome browser. it is one of the best app for dictation.
Download Now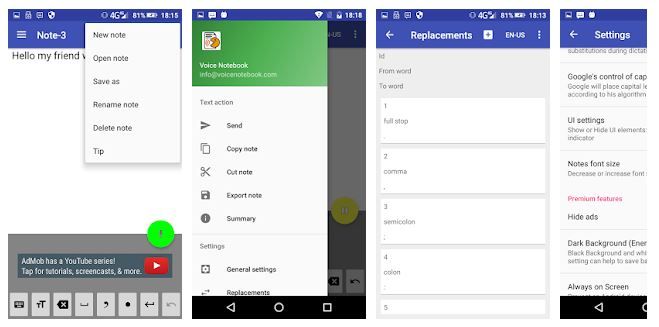 Voice Notebook: voice-to-text app features
5.Write By Voice : Speech to text free app
Write By voice is an online free speech to text converter app, its interface is bright and quite easy to use. It's perfect for converting small-time speeches to texts it uses a Google recognition system with a high accuracy rate. it is one of the best app for voice typing.
Download Now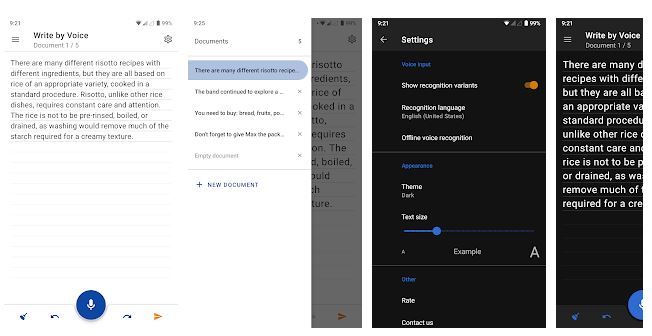 Write by speech free Android app feature
6. Otter: Text to speech best app for Android/iPhone
Otter can easily be considered of the best online speech-to-text apps, it is backed by Ambient Voice Intelligence which is Artificial intelligence. Meaning that it learns, You can train it to recognize voices, and learn special terminologies. Otter is best used for making transcription of long conversations, lectures, interviews and such. many small to medium businesses use this app for their meetings.
Download Now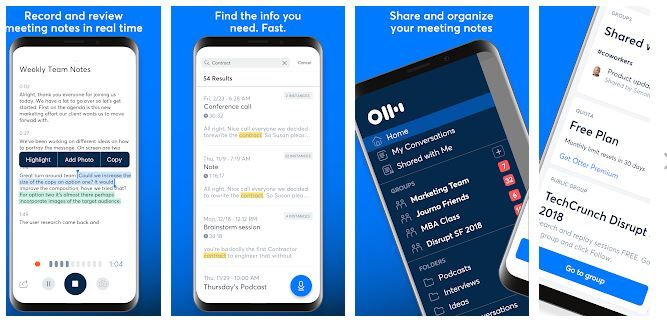 Otter speech to text app features!
That was it guys! These were the top best speech to texts apps for both Androids and iPhones 2022.
The best speect to text apps explained
All of these apps that We have informed you about are legit some of the best speech-to-text apps that have come in 2022. Although there still are many Android and iPhone software's out there, But these particular 6 applications takes the trophy.
Now you can make transcripts of any lectures, conversations, interviews or discussions in these apps, share them with anyone, anywhere.
These apps are beneficial for all of us, However, in particular, all of our friends with special needs & disabilities they can make the most out of these free speech- to- texts apps.
Important FAQs about free dictation apps
how do i enable google voice typing
Follows these steps:
1. Install Gboard
2. Open any app that you type with like gmail or whatapap or anything
3. click on "message box"
4. Top of the keyboard, you'll see microphone button
5. Hold on "Microphone button"
6. When it says "Speak Now" Speak
there you go, Now you have enabled your google voice typing.
How do i activate voice to text on Android
To activate voice to text, You must download at least one dictation app we've given above after downloading it, You can Activate Your voice to text on Android device.
is there an app that converts voice recording to texts
Yes. There are many apps that converts, transcribes, voice recordings to texts Some of which we have provided above.
How can i dictate to words
To dictate words, you just need to download any app we have given above
and start dictating any words that you want.
is there app that converts voice recording to text
There are many apps for that, To translate your words or transcribe your spoken words into texts, we have provided some of the best apps in this post.
how to convert voice to text
To convert voice to texts, Download Speechnotes and begin converting voices to texts.
Is there an dictation app for iPhone
Yes, there are many dictation, speech to texts apps for iPhone, We too have provided some of the best dictation apps for iPhone.
what's the best dictation apps for Android?
There are many apps, it's more of a question of, which app is most compatible with your android device.
Gracias! For coming so far, Now, one the chance you have some questions! write them down below in the comment section and we'll reply just as soon.