Today I'll show you how to create a lightning power effect in Photoshop using a Photoshop action called Lightning Power. This is a Professional Photoshop action created to give your photographs a professional look. Powerful techniques are employed to give your images an ELECTRIC effect with just a few clicks.
There are several ways to add lighting effects to your images, but in this article we'll focus on the quickest option, so we'll use a Photoshop action. Before we get started, let's learn a little bit about Photoshop actions.
What is Photoshop action
Photoshop actions may be one of the most useful tools you aren't using. Simply put, a Photoshop action is a collection of actions performed on a photograph during the editing process that can be saved and reused. Actions Can Be Used For Batch Editing, Bulk File Saving, And Almost Any Other Process That Can Be Simplified By Recording And Repeating It.
Steps that allow you to complete tasks that cannot be recorded can be considered actions (For Example, Using A Painting Tool). Actions can also include modal controls, which allow you to enter values into a dialogue box while an action is playing.
In Photoshop, actions serve as the foundation for droplets, which are mini-apps that process any files dragged into their icon.
Photoshop and Illustrator include predefined actions to help you with common tasks. You can use these actions as-is, modify them to meet your specific needs, or create your own. They are kept in sets to make it easier to arrange your actions.
Working with Action Sets enables you to record, edit, customise, and batch-process activities, as well as manage action groups.
Read Also
panel overview
to reach the action panel go to the window from the menu bar and chose the action from drop down menu, in the action panel you can do things like, record, play, edit, and delete individual actions, or You can save and load your own actions files from this panel as well.
In the Actions panel, click the triangle to the left of the set, action, or command. To expand or collapse all actions in a set or all commands in an action, Alt-click (Windows) or Option-click (Mac OS) the triangle.
How to install the action
From the bottom of the page, you will find a "download button" for the action file in zip format, which you have to download and extract.
inside the folder, you will get another folder called file, open it.
Here you'll find the action and the brush that will help you create the lighting effect.
You must now install both of them in the brush panel and the action panel one by one. Let's start by installing the brushes. To do so,
open the photoshop, and go to the "brush panel". then click on the "gear icon" and select the "import brushes" option.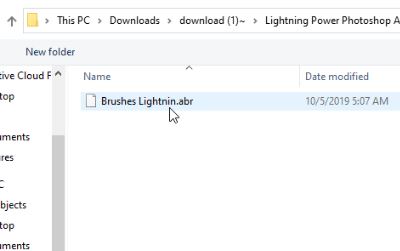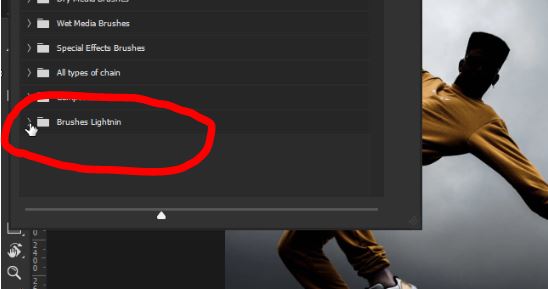 Once you've located the brushes, simply click on them to see them appear in the "Brushes panel".
Similarly, you can put the action in place.
You can access the action panel by going to "Window" and selecting "Action".
When the action panel is open, click on the "three lines" to bring up a menu of options. now Simply choose "load actions".
requirements
To use this action, you must meet the following requirements:
Your photo is in RGB color mode
Your photo is in 8bit color mode
Your photo must be at least 3000 pixels in size.
how to use Lightning Power action
Now let's look at how to use this action to add lighting effects to your images.
open the image you want to work with.
Make a new layer and name it "brush".
Then, using a "soft round brush", drag it over the area where you want lightning to appear.
Now press the "play button" to begin the action! and "wait" until it is finished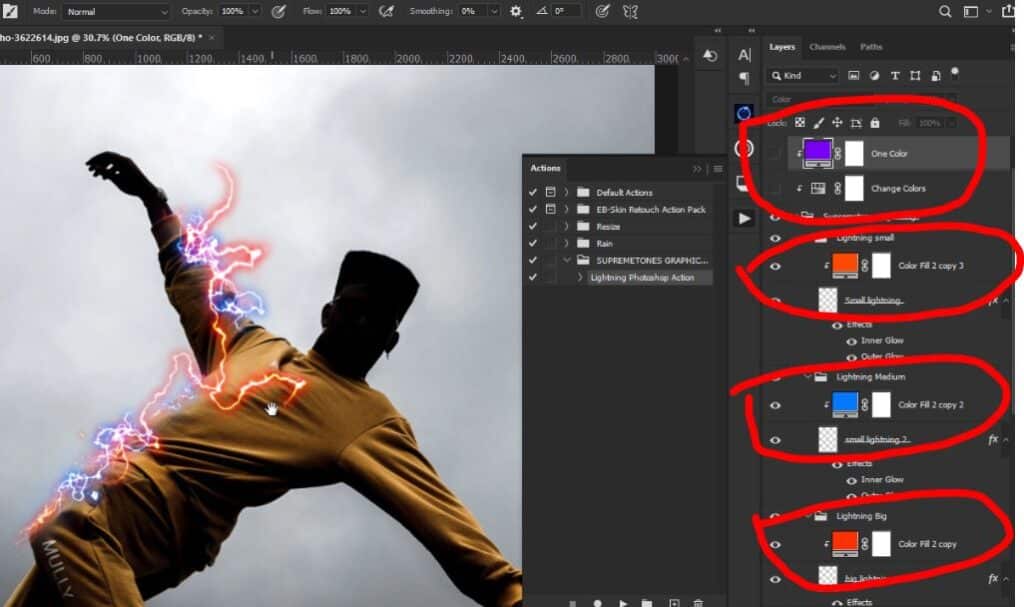 Once the processing is complete, you can customize the lighting colours by simply changing the colours of these solid color adjustment layers.
and that's how you can quickly add a lighting effect to your photographs. You can achieve similar effect to your images by applying this action
Download the Lightning Power Effect action